Pilates workouts for core strength , balance, posture and flexibility
Such a great article about all the benefits of a 'pilates lifestyle'. It's definitely not just for girls these days as the article mentions.  We have a lot of families ( husband and wives as well as their children) coming into the studio to keep their bodies fit, strong and assist with injury prevention.  Pilates will assist you to strengthen your stabilising muscles and increase flexibility and over time you will also see significant changes to your body shape. I have some clients in the studio who have been coming religiously 2 times a week for about a year and not only have they lost weight and gained strenght, they have also been able to remove back pain from their daily lives. If you have never done pilates before, this is a great read about the benefits of pilates when done on a consistant basis.  After reading the article, jump in and register for your first class….I promise you won't regret it!!! Click here to read the full article on how Pilates workouts has assisted hollywood start to improve their fitness   Want to give it a try?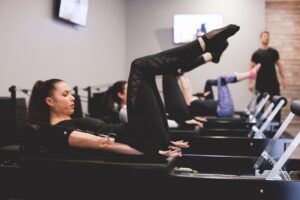 We look forward to meeting you!